Soccer aid is a football match that has as objective to raise money for Unicef.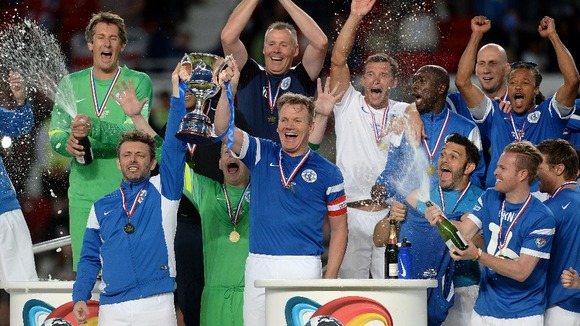 The 2016 edition has raised £5.4 million in a match that saw England beat the Rest of the World by 3-2.
The game started well for the England team where Olly Murs and Mark Wright were among the best players. Indeed the England team got multiple occasions to open the score through Olly Murs, but the latter will be let down by poor decision making. The best occasion will be in the 29th minute where he will shoot wide from the goal despite there was no keeper.
The first half will end up 0-0, but things will change in the second-half. Shephard will be sent off after a second yellow card and became the first player in the history of soccer aid to be sent off.
However, this will not affect the England team as they will open the score a few minutes later thanks to a great shot by Mark Wright. They will not lead for long though as Berbatov will equalize after great work by Ronaldinho.
A few minutes later, Berbatov will add a second goal to give the Rest of the World team a lead in the game. However, they will not be able to hold on to their lead as Defoe will equalize for the England team.
Read more »